The Programmatic ABM age is here and with it, 3 main technology enablers:
a) Real time data
b) Learning algorithms to optimize at contact level
c) A fully programmatic partner ecosystem
What are the critical steps to implement Programmatic AMB?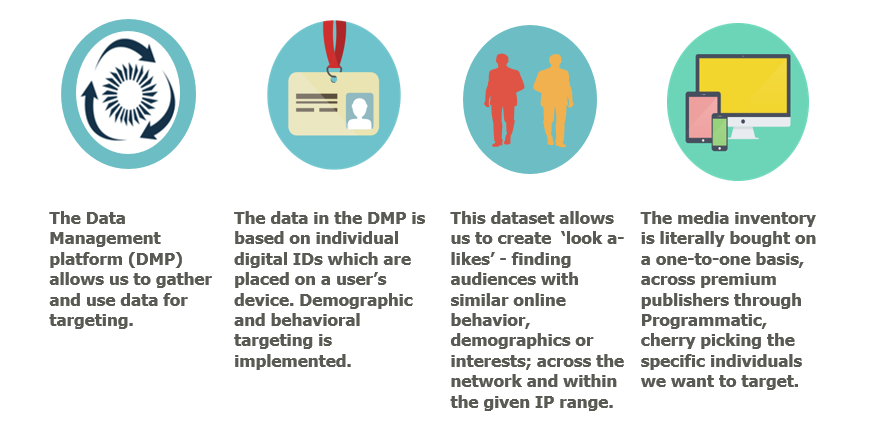 a) Accounts: Start by selecting, sizing and prioritizing your market.Once you have your accounts selected, you will need a solution to reach out to them. The most common approach is to ring-fence the accounts via IP Targeting. As example, here at Celsiuswe can make sure that only specific accounts see your content.  
b) Coordinate the different online banners over time and find the mix that produces the best engagement. As example, there are platform where you can limit the number of times one ad is shown per contact ( no more than each 5 minutes, maximum of 4 in one hour and no more than 20 ad.s per person in one day). The machine learning algorithm will fine tune the optimal frequency by learning from the days/ hours where you have most conversions, the number of times one needs to show the ad before prompting a visit…
c) Content. You can programmatically switch on and off content based on performance and A/B testing, see the formats and sizes that do not perform and over-bid on the ones that deliver. Again, all this is performed best of done programmatically
d) Audience. Collect rich information about the audience (cookie based data, location based data, devices, search/key words being used by them) in order to determine which audience within your key accounts should see your content.
If you want to benefit from Programmatic ABM to boost engagement and sales from key accounts let's talk. We put technology at your service so you can better reach your audience.