Account Selection
Do you know what you're missing? How comprehensive is your database? Are there some high potential prospects you don't know about? To find them, have Celsius match your data with our 'Enterprise Market Model' of all organisations in Europe with more than 500 employees and provide the missing records. Or if your business or requirements are more specific, we'll match your data to the right information source(s) and find the missing ones that way.
Telemarketing
 Local calling with standard management and measurement. We believe that our telemarketing programs are the right combination of local callers (with the right language, accent and knowledge of what's hot in their country) with centralised reporting and management. So you can deal with just one supplier but know that you're getting the best local callers.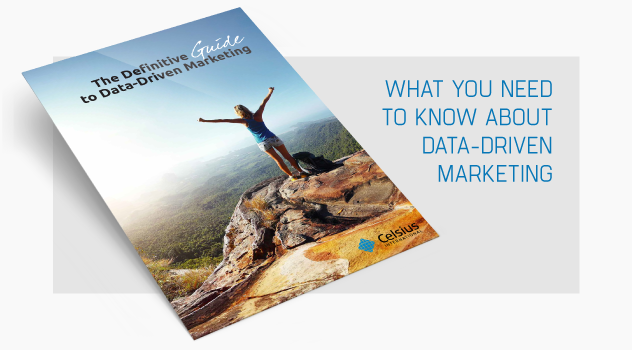 The Definitive Guide to Data-Driven Marketing
---
You know that Data is changing the shape of Marketing and, under the new paradigm, overlooking for data quality is simply not an option. The Definitive Guide to Data-Driven marketing is your essential kit to successfully unleash the true power of data and communication platforms. Download your free copy.
---
Download Now
Data Integration
In your organisation, you have valuable data in many systems: ERP, customer/invoicing system, CRM, perhaps marketing automation, maybe customer service. If only you could bring them together in one place to support your marketing plans! We at Celsius have done precisely that for several large corporations, using our 'CelsiusCloud' integration suite and our sophisticated automated matching systems.
Marketing Automation
We provide marketing Automation as a managed service. Let us know how much support is needed and we'll make sure we turn you into a rock star. We can support both Act-On and Marketo ( only EMEA agency finalist to the Revvie Awards in 2016)

Celsius Cloud VIDEO
We know that data doesn't always come ready to use. Celsius Cloud provides on-going data integration to create a comprehensive data universe for you. Watch the two-minutes video on how Celsius Data solves your data pains: no more missed deadlines due to complex decentralized datasets. With Celsius Data Cloud, inconsistent, inaccurate and duplicate data is a thing of the past.
How Data can help you identify your Marketing Sweet Spots
A US manufacturer of complex components for industrial processes came to us for a lead generation project in Europe. What was not clear to them was who the best targets would be … Enhancing and profiling customer data tells you a great deal about where to put the marketing $.
Digital Demand Generation
What truly inspire us is knowing that only informed decisions based on data and facts will truly move the World forward.
More than a decade into the digital age, the vast majority companies still seem to struggle unleashing the true power of data and communication platforms being introduced and adapted more rapidly than ever.
New valuable data streams seem to flow into new data silos, separated from existing data structures. Over time, this prevents even the most strategic companies to make informed decisions regarding market modelling, demand generation and lead nurturing.
All of the above leads to confusion and inefficiency, but more importantly to us, it leads to a state of "irrelevance". A state where expensive resources are spending time and effort on the wrong opportunities.
At Celsius we strive for relevance. Relevance in the who, the what and the why. We continue to believe that the data is there and that the data is the gold for any company sharing our passion for relevance and informed decision making.