Okay, it's that time of year when we need to think about what's going to be big in 2016. And we can answer that straightaway with two simple techniques: marketing automation and content marketing. Get these two right and you'll be set for a very profitable year indeed. But, each strategy requires some care and attention, if you are to exploit their maximum potential.
Marketing Automation
If you've not experienced the delights of marketing automation yet, you need to jump on board quickly. 2016 will be the year when automation of the basic marketing processes will really come into the fore and it represents the best opportunity you've got to make a real difference to your campaigns next year.
But, here's the thing. When it comes to marketing automation, arranging a licence is the simple bit. If you don't have expertise, or staff to operate the system, then it's money down the pan. There are when I'd be worth considering a managed service approach, at least while you are building the know how.
Content Marketing
Content has been regarded as the King of the Hill for some time and it's unlikely to be knocked off that pedestal for some time yet. In fact, content will become even more important in 2016 than 2015. If you don't already know it, and whether you like it, or not, every company is now a publishing platform. This trend was driven by consumer companies, but now it's equally true of the B2B sector. Potential, and indeed existing companies, will judge you by your content.
And content comes in two main forms: messaging copy and support content.
Messaging content comes down to the words and phrases that go into your emails. You might have the machine set up correctly, but if the messaging is incorrect, or the proposition not properly spelt out, then all the efforts at the sharp end will be wasted. Messaging will get your email noticed, but it can also easily get your email dismissed as a waste of time. Don't forget, that every time you issue an email saying something to your existing, or potential client base, then you are putting your reputation and credibility on the line.
As for support content, the latest research suggests that buyers do much of their provisional groundwork themselves. You know how it works of course. You Google a company name, or name of product/service, and out spews a whole range or sources. You give the official blurb a read (mostly by reading the About Us on a company's website) and then you check out what the company is saying throughout its site and you finally move onto what's being said about the company by others. Some of this a company can influence, some of it they can't. But, crucially, it creates the key overall impression for any company and is instrumental in their buying process. And once the impression has been made, the company then delves down into whether the content solves their particular need, or requirement. If all this comes together, then bingo, leads will be converted.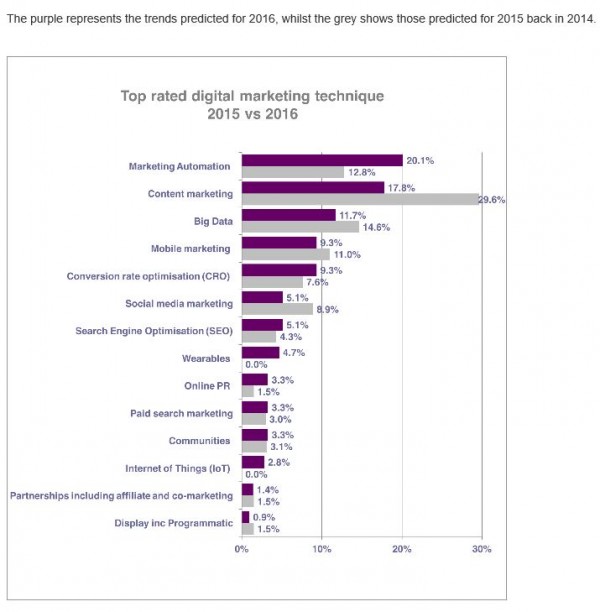 Last Word
A new year always brings opportunities and a sense of renewal and hope. But, in order to exploit this annual green-field, it is essential for all companies to get their approach right. And there's no better way to gear yourself up for success this year than by focussing on both marketing automation and content marketing.