Social Account Based Marketing utilizes the unparalleled strength of LinkedIn's professional database. From start to finish, our focus is on reaching out to the right people in a meaningful way, leveraging the capabilities of social channels to build HtoH ( human-to-human) connections.  We are able to automate, escale and report the interactions so you focus on Social Selling to contacts we already create engagement for.
 Social ABM pushes beyond the constraints of IP Address and Geographic Targeting into the realm of person-based targeting. Now your messaging can reach your target market outside of their office walls, on their mobile device at any time of day and in any situation. Using your defined Accounts list and researched knowledge of the likely decision makers within these companies, we construct precision targeted Social Media audiences for use in Social Media Advertising campaigns across various mainstream Social Media platforms such as Facebook, Twitter, Instagram and LinkedIn.
With targeted Linkedin Sharing we see 5% to 20% CTR and 2X to 3X higher registration rates to landing than regular email campaigns
Fintech Scotland 2016: we reached a 14.24% click-through rate which proved the success of our Social Sharing Solution
A highly targeted program for an IoT audience in 2018 has resulted in up to 30% CTR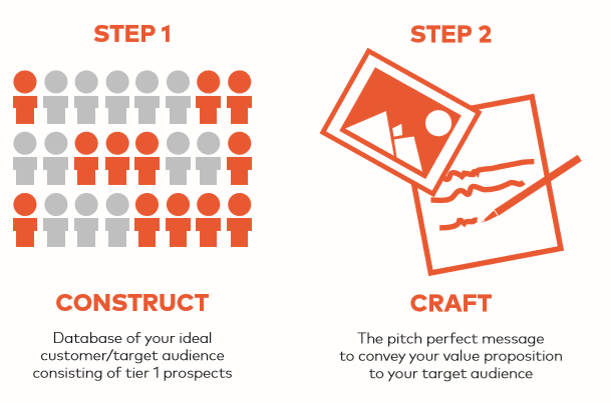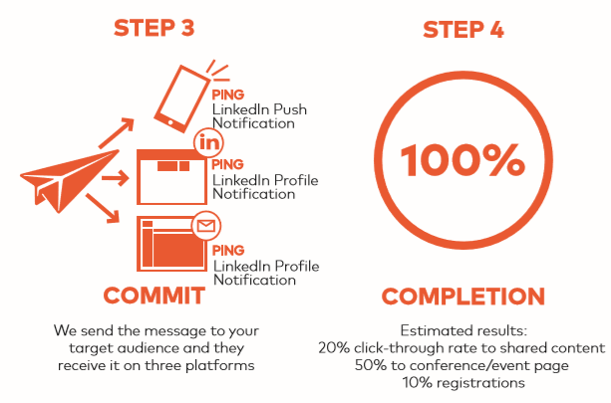 From start to finish, our focus is on building relevant messaging and reaching out to the right people in a meaningful way.
With the right target list, messaging and cadence, we make sure to give your marketing outreach a personal touch.
You walk away with a list of target personas who have been 'warmed up' by social outreach. Based on your needs as a sales professional, we will enhance and prepare the database to make it actionable, accurate and reliable.
While we work, you can expect a certain amount of predictable activity on your profile. If targeting and messaging is done right, much of this will be a form of interest expressed by your target personas.
While Shares are a technically public social activity, posts will typically only be seen by other contacts who are already relevant and interested in the subject. This is thanks to a combination of LinkedIn's newsfeed algorithm and the nature of your target persona's relational business network.
Taking truly an ABM approach, the concept is to share high value content on LinkedIn that appears as a one to one message, as opposed the the mass emailed messages.
The content is shared on person's LinkedIn newsfeed with a personal notification, visible to her entire network too.
This is a proven method that creates higher engagement that any other method like cold calling or email.
Main takeaways are:
– The highly targeted audience can interact with your message – share, like or comment.
– It is very likely that the engaged audience will accept a connection request for further follow-up.
Ready to start? Contact us