This figure is going to shock you. In fact, it shocked us. We like to think that businesses are pretty clued up these days when it comes to marketing automation. Yet, this is not the case.
Now, the actual percentage of businesses that use marketing automation is just 22%. Yes, not even a quarter. But why? We asked ourselves this question and when you think about it, the answer is pretty straightforward.
Company management teams simply do not know how to run such platforms. They fear, and this a correct worry, that if they try to run such platforms, they will make a mistake and actually alienate more customers than they are trying to engage.
It's a valid point. Not only can the platform be tricky to understand in terms of navigation, but also you have the problem of keeping the data fresh and preparing it for use.
And in the back of everyone's mind, is the fear that if you get it wrong, then you could be accused of generating yet more spam for people to cope with.
How To Avoid The Main Pitfalls
So how do you go about organising a campaign which avoids the main pitfalls.
There are two extremes of the spectrum, with most companies falling somewhere in between.
At one end you have companies who view the humble email platform as marketing software. They choose a template, pressure some executives to provide some content (any old words will do, as long as they have a slight relevancy and fit the email template) and then fire it out. At the other end of the scale, management do battle with huge platforms that are meant to take raw data and spit out numerous leads. Yet unless they are properly set-up and monitored, users find out that the end result is worse than the simple email platforms.
So, how to ensure that you are not wasting your time?
Golden Rule Of Automated Marketing
Firstly, you have to observe the golden rule of automated marketing. The quality of the end product is determined by the quality of the raw data. If you enter poor data, you will receive poor results, it's that simple. Remember that automation marketing programmes work by looking at the behaviour of your contacts, in effect your audience. Once it has analysed these behaviours, it will prepare you new strategies. So, if you feed in a list hurriedly put together, or bought from dubious sources, it simply is not going to work. Therefore, feed in organic leads, ones that you have the provenance for.
Secondly, the larger the number of organic contacts you feed into the machine (always remembering its quality, not quantity that should be your guiding principle), the better the analysis will be. And once you start filtering in other channels, then the automated software really should prove its worth. It should be able to give you a detailed and substantial profile of the contact, including such things as what they are sharing, if they research your products, or services, and even what posts they might be reading.
Nurturing Your Leads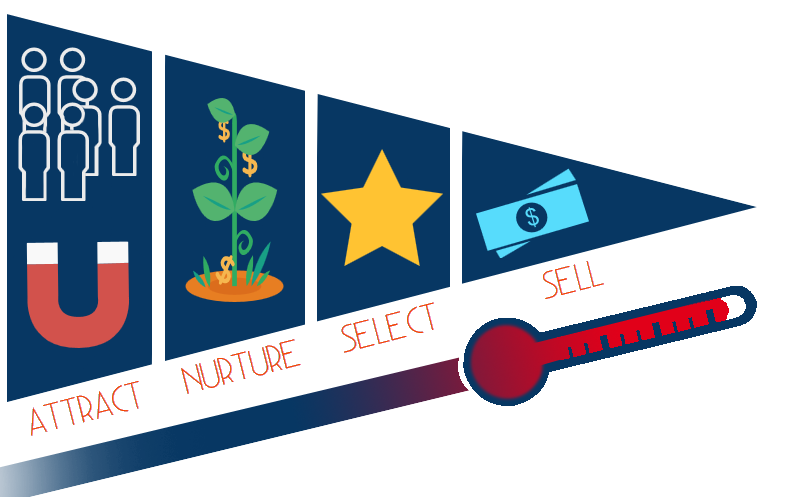 Thirdly, the next important stage is having the ability to start nurturing your leads and the best way to do this is with informed content. Remember what we said earlier about content. The key here is providing quality and original content, and which is informative and engaging. Ill-conceived comment at this stage could ruin all the hard work done in the previous two stages. Therefore, if you are armed with knowledge about your customer, generated in the second stage, then there is no excuse not to target your customer with relevant content. Material that will appeal directly to your contacts.
What's more, you have to ensure that your content strategy is complete and that blogs, social posts and even PR are generated from the same ideas and principles. Every channel has to sing from the same hymn sheet.
Fourthly, don't be afraid to segment your audience. It's highly unlikely that all your contacts will have the same interests and want the same sort of information from you. So, be prepared to mine down into your databases and segment your lists according to as many filters as work. The more you can do this, the better your responses will be, because eventually, you will be speaking to a small group of manageable contacts on an almost one-to-one basis.
Finally, do not make the mistake of thinking that because the word automated is used, you can prepare your software platform, press go and come back to it in five years' time after it has made you a fortune. That's not the way it works. Automated software is a hungry machine and it needs to be monitored. It may be that you need to update your contacts, check out new social media platforms, fine-tune content (which should be continually updated anyway), or look at your website and landing pages. The platform may be automated, but remember, that's just the process – the rest requires constant attention.
Last Word
So yes, companies should always use automated marketing software when it comes to reaching out to contacts, and given that only 22% of them do, this is a wasted opportunity.
But, and this is a big but, although automated marketing software will ultimately generate superb sales leads, it all depends on how much you put in. If you cheat on time and resources at the front end, you will only cheat yourself at the other end.