There is no doubt that Programmatic ABM Display Advertising holds the key for hyper-targeted digital demand generation. However you should be aware that a full programmatic ecosystem is not free of risks as if not handled correctly your impressions could go the wrong place or even be charged for machine traffic ( not human ) . Cheaply designed B2B display solutions can at the end cause more harm than good to your brand and your budget! 
Next time to discuss B2B display advertising, make sure your ask how the digital supply chain is handled. Here, at Celsius our ABM Programmatic platform runs on a full 9-box model, with the following areas identified and managed: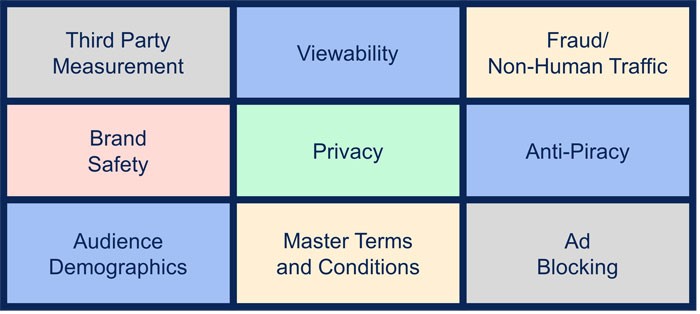 Do mind that as much as the approach to safe contextual placement runs with a zero-tolerance attitude, we must remember that the nature of automated behavioral advertising is directed by an algorithm that selects a user (it's our ambition to place the right ad in front of the right prospect at the right time) not a web-site. Thus, a call for perspective and balance. Digital opens many opportunities to us through the use of data, but along with those opportunities come some risk and we have to use technology and vigilance to mitigate that risk.
Our technology ecosystem has led the market in all the categories listed on this schematic (in some cases even developed the technology for the category and shared it with the industry – like privacy and anti-piracy) and we are continuously working to make it even safer for our customers.
How to fix it for good
When looking ahead we see a strong role for blockchain technology in cleaning up digital advertising as in theory it should be helpful in identifying and eliminating risky inventory, but year a useful solution is still a few years away.
Want to know more?
Contact us