Business data has to be friendly. Data has to be put to work and it has to be effective, otherwise it's a totally wasted and very expensive resource. But, we know that's easier said than done. The best solution is to choose a partner who can offer a one-stop solution, and let them fully leverage your own data.
Even though B2B companies realize the importance of good data management in driving success, the majority still do not prioritize addressing the data skill gaps in their marketing departments.
"Without good data, all demand generation strategy is a house of cards," said Fleur Labedan, Client Services Director at Celsius International. "At a high level, a 3% data decay per quarter does not look bad but it hurts your business as a whole and renders good decisions nearly impossible."
This is why we have a key offering when it comes to data: we make your business data friendly, with our data as a true service solution.
And we start off by organising our data services into three main areas: data sourcing, database services and profiling.
 Sourcing
For sourcing, we get data from both national suppliers and vertical segment specialists. We also increasingly use social media information to source data and this has proven a very effective strategy over the years. When it comes to the sources we offer, we enhance existing customer data, merge multiple new sources, and then code and standardise all the data.
 Profiling
"When a man does not know what harbour he is making for, no wind is the right wind". How can companies know if their efforts are heading towards the right direction?
For profiling, we make a detailed analysis of data versus the available universes, and use the Celsius Enterprise market model for ABM. We can tell you the markets that show best potential and those that are not worth going for. We can uncover patterns and use predictive analytics to show you the right directions.
 Cleansing and Enrichment
With data cleansing and enrichment, the process followed is once again very detailed. Our data cleansing and standardisation uses CPT data that includes a number of key factors such as country name standardization; the address, city and postal code cleaning; and, the generation of city based on postal code. Furthermore, there is a standardization of phone numbers; the removal of all non-applicable data; the generation of gender based first name and derive salutations; and, the validation and generation of emails.
 Celsius Cloud – Building Bridges across Data Siloes
What Celsuis Cloud offers is an on-going data integration which creates an accessible data universe for a company's marketing and sales teams. This means full integration between our Celsius Cloud and the ability to de-duplicate, enhance, analyse and extract the data.
This may sound, and is indeed a very thorough process, but when you see the end result, you can immediately appreciate that the Celsius approach turns data from a somewhat hit-and-miss affair, to a highly targeted and very valuable resource. Data that has been cleansed and enhanced by Celsius, becomes a very powerful part of the mix and one which can be put to good use by the sales and marketing teams.
Last Word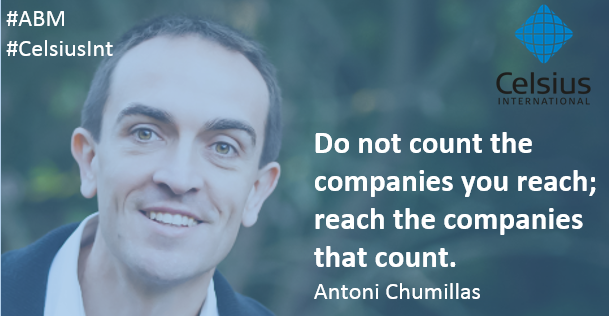 We believe that we need to inspire Marketing and Sales teams with quality data so they can do the things that inspire them. Business data needs to be friendly, all too often companies lose control of their data and it quickly becomes a liability, one which is an unwieldly and ineffective when it comes to communicating with potential and existing customers.