IP-targeted ads deliver content through web publishers. Easier said than done. Are there any known challenges on IP targeting that your vendors would not want you to know?
IP addresses (abbreviation for Internet Protocol) are used to identify devices that connect to the Internet. Think of it as the 'sender' address in a normal postal letter. As example, when your search somehting in Google, the IP address is associated with your question and therefore the search engine knows exactly the machine it should be returning the answer !
When connecting to the internet every device uses a surf IP address. This is true for computers but also for printers, servers … Big companies have normally ranges of IP addresses dedicated to them whereas smaller ones will most likely use the IP ranges given by their ISP. When an employee connects to the internet from his work computer he is most likely using the corporate IP
address. Not to mix with the IP address of the website as it might be most likely hosted somewhere else (MS Azure, Amazon WS or any other hosting provider).
Reverse IP lookup
Some solutions work on the principle that it is possible to identify the surf IP address by looking at who's coming to your website. On this basis, one simply has run reverse IP look-up to identify who the company was and decide whether we want to re-target in the future. Thirty-five-years ago, when Internet started, they developed Internet Protocol version 4, which created 4.3 billion
IP addresses for potential connected devices. Believe it or not, we ran out of IP addresses a few years ago and companies launched IPv6, which will expand the number of IP addresses there
are to about 340 trillion.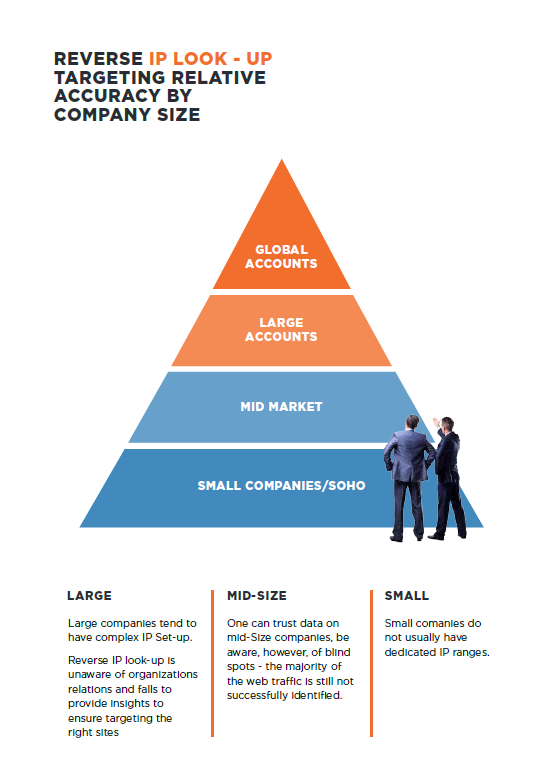 Accuracy can be a challenge
There are a number of ways when IP targeting is falling short from optimal:
a) There are companies that use a single global IP address. Whereas this can be great news if you target single-location based companies, if you want to reach an organization that sits in more than one location, this will not be very helpful. Not only this, if you target large corporations you can be certain that you ads. will most likely not reach the individuals you want to engage.
b) IP addresses do not correlate at all with geographical coordinates. If you ever thought this could be a work around, this is unfortunately not the case.
c) Reaching everyone in large organizations like IBM, Ford or Citibank, when you only care about a very specific audience, can become expensive. Think of it like a billboard outside an office: nearly anyone working in that location has the potential to see it. If not managed together with a DMP (Data Management Platform), IP targeting alone is simply very weak.
So what is the answer?
There is only one good answer and it is : UNDERSTAND YOUR VENDOR
What reporting / insights are available
IP targeting capabilities. There is no such thing as 100% accuracy so check to see how they perform their IP mapping and be aware that if they only use IP targeting you may not be able to target that account.
 Reverse IP-Lookup targeting. With trillions of IP addresses available, reverse IP look-up will not run short of work for a while! Many vendors offer the possibility to run a trial and tell you who comes to our website. If you plan to invest in ABA it makes a lot of sense to start by sense checking how much of your existing traffic they can identify. If you run Marketing Automation you certainly know already some names and nothing prevents you from running concurrent tests with different vendors to prove their worth. Most times you'll be given a week free trial worth of traffic.
Geo-Targeting. Can they complement the existing program with a geoapproach? Many times you'd wish you had the opportunity to target only people in a given building or location.
Do not risk everything for only using IP targeting.
Cookie based data – Which are the sources, how is the vendor complying with data privacy and which is the country coverage?
Platform – Some vendors offer a nice platform that integrates with your SFDC/CRM, others not. Think about it and consider if you really need the integration and if you have the resources to run the campaign with your own team. You can burn your marketing budget very quickly if you misuse the platform.
Our recommendation for a zen Account Based Advertising moment is to focus on Outcomes, not  Outputs. And above all, do not forget that ABM is an strategy, not a campaign. If you run an IP based campaign as a silo activity, there will be little rewards at the end of the journey, no matter the accuracy of  the targeting.