If seeing is believing, here you have the key ideas that should clear away misconceptions about Facebook
Facebook's gentrification. Teenagers are just 5.4% of FB users. The main age-group is 35–54's.

2/3 of Facebook users log in daily, spending an average of 50 minutes per day across Facebook's suite of apps . In comparison, the average user only spends 2 minutes a day on LinkedIn

"Facebook doesn't work for B2B," people say. "Users aren't on there for work." You're right! People are on Facebook to be distracted. Social Media users say. "Show me something awesome!". If that something you show them happens to help with their work, they will click on it. That's what the data tells us about B2B Facebook advertising.

Facebook is playing big the Advertising game, releasing new features continuously. Just in 2015, advertisers spent $17.08 billion on Facebook and its share of market is growing faster than Google's. In other words, advertising budgets moved towards Facebook, and it seems to be a winner in online advertising world with measurable results.

B2B companies are already using this Channel. It is a market where early B2B adopters will reap the main benefits. Even LinkedIn is using Facebook Advertising !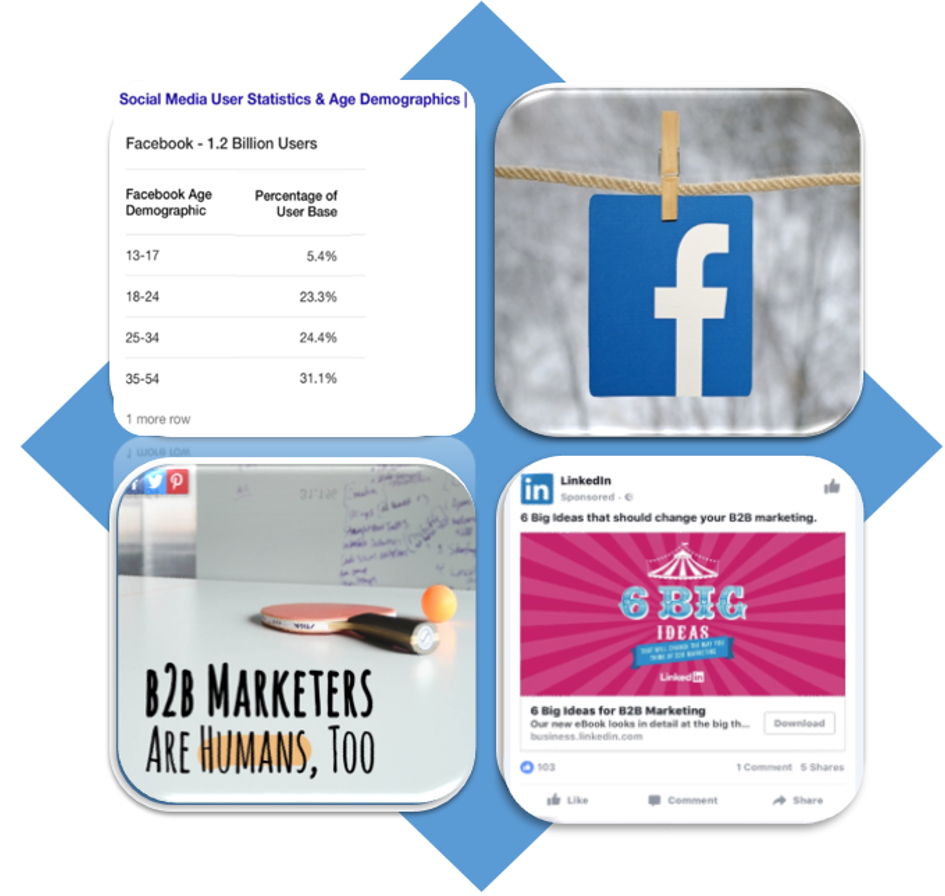 The mechanics of lead generation through social media are not difficult to grasp: share content through social media channels that compels prospects to engage with that content and willingly become a lead.
Account Based Social Advertising is another way to think about social media, a more effective approach as direct marketing channel, a one-to-one channel to key decision makers, C level contacts and influencers in Key Accounts.
Your account based target audience spends 96% of their social media time on Facebook (compared to LinkedIn), but until now you had no precise way of targeting these prospects on Facebook. Facebook has been an unobtainable medium for Account Based B2B marketing. Account Based Social Advertising (ABSA) utilizes the unparalleled strength of LinkedIn's professional database and marries it with Facebook's Advertising platform.
This targeted approach has unique features in its design and implementation that stretch beyond these 2 platforms. This document answers some of the most common questions from customers.
Contact us to know more about how Account Based Social Advertising complements existing

Account Based Advertising

campaigns, providing the next step towards building a real world relationship with target prospects.